Colony Design Set
Jump to navigation
Jump to search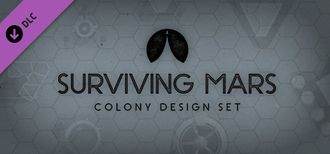 ---
Type
---
Release date
2018-11-15
---
Store: Cosmetic pack
The Colony Design Set DLC was announced on 2018-10-04[1][2] alongside Space Race and Marsvision Song Contest, and was released 2018-11-15.[3][4]
All three DLCs are included in the Season Pass,[5][6] and are available in the Space Race Plus bundle.
Deck out your dome with 25 new buildings to give a fresh look to your living, working, and playing quarters. Whether it's a Stirling Generator or a Spacebar, make sure you spruce up your space to be out of this world.
Nine new buildings[7]:
Living Quarter – 3 hexes (Large building was renamed to Living Complex)
Small Space Bar – 3 hexes
Small Electronics Factory – 3 hexes
Small Machine Parts Factory – 3 hexes
Small Art Store – 1 hex
Small Grocer – 1 hex
Large Wind Turbine – 6 hexes
Large Oxygen Tank – 7 hexes
Large Garden – 10 hexes
The rest are alternative models of existing buildings:
Apartments
Stirling Generator
Shuttle Hub
Drone Hub
Moxie
Arcology
Smart Home, Smart Complex (new models for both sizes)
Infirmary
Polymer Plant
Rare Metal Extractor
Metals Extractor
Concrete Extractor
Hydroponic Farm
Research Lab
Diner
Water Extractor
Living Quarter, Living Complex (new models for both sizes)