In-Dome Buildings Pack
Jump to navigation
Jump to search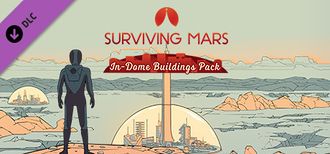 ---
Type
---
Release date
2021-03-15
---
Store: Content pack
The In-Dome Buildings Pack DLC was announced on 2021-03-13 and was released on 2021-03-15 alongside the free Tourism patch.[1][2]
Official Description
[
edit
]
You Are Cleared For Landing!
Expand your colony with the first Surviving Mars Content Creator Pack from longtime Paradox community modder Silva - the In-Dome Buildings Pack. Take your colony to the next level with 8 buildings and technical additions to help you make the red planet feel a little more like home. This pack expands housing options and introduces more community buildings.
New Buildings
[
edit
]
The In-Dome Buildings Pack Includes the following new buildings:
Habitats for Humanity
Smart Apartments (Habitats, Large) - Apartments that provide the same luxuries as smart homes.
Retirement Home (Habitats, Medium) - A lovely place for your senior residents to retire.
Large Nursery (Habitats, Large) - A larger version of the nursery, able to house more children.
Dome Sweet Dome
Security Post (Dome Services, Small) - A more compact version of the Security Station.
Medical Post (Dome Services, Small) - For when you need a smaller infirmary in the area.
Hospital (Dome Services, Large) - A larger, more relaxing version of the infirmary. It also comes with the exclusive Remote Medic upgrade, which reduces the number of colonists required per shift.
TV Studio Workshop (Dome Services, Large) - A new workshop building which also generates funding.
School Spire (Dome Spires, Spire) - Build the school as a spire building. It comes with the exclusive Superior Education upgrade, which has a small chance to give the Genius trait.
New Colony Logos
[
edit
]
Official screenshots
[
edit
]
Official Videos
[
edit
]
References
[
edit
]