Project Laika
Jump to navigation
Jump to search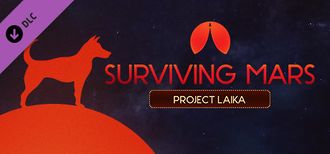 ---
Type
---
Release date
2019-05-16
---
Store: Content pack
The Project Laika DLC was announced on 2019-04-10 as an "Animal Pack", with a request for name suggestions.[1] The winning name suggestion was announced on 2019-04-12, along with confirmation that it was to be released alongside the Green Planet DLC.[2] Both DLCs were released on 2019-05-16.
Official Description
[
edit
]
Animals have arrived at the domes and are here to make colony life better for everyone. Surviving Mars: Project Laika adds a variety of pets and livestock that you can use to benefit your colony and improve life on the Red Planet.
Animal Farm - Breed up to eight different farm animals in the Martian pastures including cows, chickens, pigs, and more. Farm animals can be raised for food in the new in-Dome Ranches or Outdoor Ranches, depending on their size, and consume more water than crops.
Martian's Best Friend - Project Laika features 25 different pets, ranging from your usual suspects like cats, dogs, and rabbits to some unexpected critters like llamas, penguins, platypuses. Once you terraform the planet enough, pets will go outside to explore nearby bushes and trees.
Animals
[
edit
]
There are two classes of animals to be added:
Farm animals: Bison, Camel, Chicken, Cow, Goat, Pig, Sheep, Ostrich
Pets:         Dog, Cat, Goat, Pony, Penguin, Rabbit, Tortoise, Platypus, Llama, Deer (plus more TBA)
Access to the Platypus requires a Paradox account
Official screenshots
[
edit
]
Official Videos
[
edit
]
The name suggestions were narrowed down to four choices and a vote was held.[3]
| Name | Votes | Percentage |
| --- | --- | --- |
| Project Laika | 98 | 58.7% |
| New Pastures | 32 | 19.2% |
| Moo Moo Pack | 28 | 16.8% |
| Pet Project | 9 | 5.4% |
References
[
edit
]